Turnover is a major concern in many contact centres. Between the monotonous daily routine and the work environment, many agents experience exhaustion and may choose to look elsewhere for work. However, if you can trial new and different ways to coach and motivate agents so that they enjoy their work more, then they are more likely to stay with the organisation.
Motivated agents tend to have better success across all company KPIs and when they feel empowered, there is a greater sense of commitment to perform at a higher level.  These things both lead to a better customer experience.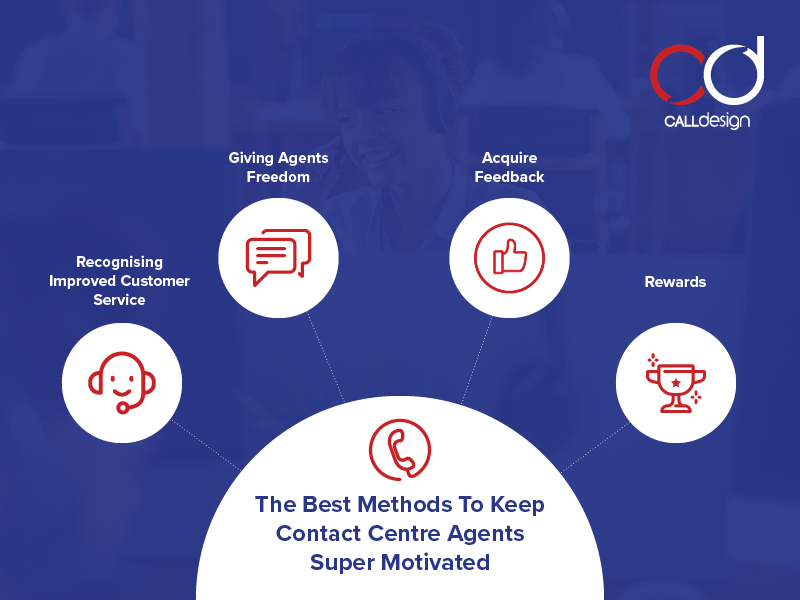 The Best Practices to Create Consistency Around Team Motivation
When it comes to motivation, there are many methods that businesses can choose to adopt.  Below we outline some of the best options.
1.Recognising Improved Customer Service
Internal campaigns that highlight the importance of customer service and recognise agents that have provided quality assistance to customers can greatly increase motivation. By sharing success stories and providing examples of  excellent service, agents are more likely to continue to perform at a higher caliber. This eventually results in a superior customer experience.
2.Giving Agents Freedom
In a contact centre, examples of scripts and guidelines are imperative, but if agents are restricted to specific  speech they can become easily frustrated and bored not to mention the fact that the conversation is less engaging for the customer. Managers should allow agents to take ownership of their interactions with customers and use their own discretion to alter the flow of each conversation. This increases their motivation and shows that you trust their opinion, and agents will feel supported and valued by management.
3.Acquire Feedback
Talk to your agents and ask for their feedback. Enquire as to how they think service could be improved and work on implementing some of the changes. Agents know the customers better than anyone else and can provide valuable insights into the customer experience.
4.Rewards
Ensure that agents are rewarded for their performance. The reward program could be carried out in a one-on-one basis or in a group setting through both monetary and other means, such as raises in salary, bonuses, promotions, cinema or restaurant vouchers etc. This will encourage and motivate agents to continue providing the best service possible on a regular basis.
When agents come to work, they need to be motivated if they are to succeed and create the best customer experience possible. While turnover is a challenge, management must ensure agents feel appreciated and are listened to, as they are an integral part of the organisation.
Every contact centre can benefit from strategic human resources plans that focus on agent happiness, wellbeing and performance. The latter requires managers to coach their contact centre agents, and focus on a holistic approach, minimising their downtime, and improving their enthusiasm for customer experience excellence.
Call Design works extensively in helping contact centres navigate the coaching of contact centre agents combining technology with management tools, giving contact centre agents the support and encouragement required to embrace their roles and exude motivation for greater performance.