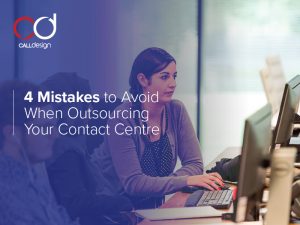 The contact centre is one of the most important departments in your organisation. Contact centre agents have a direct line to your customers, handling the various customer service issues that your business is facing on a day-to-day basis. When you are outsourcing your contact centre efforts, it's essential to choose who you work with very carefully. Even as a critical facet of your organisation, it's easy to make mistakes when you outsource your contact centre. Below, we discuss four things to avoid when outsourcing your contact centre efforts. 
Improper Training
Improper training of contact centre agents can lead to the dissatisfaction of your customer-base and a lack of general productivity. Training takes time and resources, but it should be seen as an investment into the team of agents that are responding to your customer's inquiries. Agents need training sessions for each new process and technology that your organisation introduces to the workflow.
Not Focusing on the Customer
With many contact centres focusing on the amount of time that the agents are spending on each call, it's easy to lose sight of what matters most: the customer. Your customers should not be faced with a quick fix or feel as if they aren't being heard. When you implement an outsourced contact centre, you need to ensure that they are committed to improving your customer experience and making your customers happy with each resolved query.
Ignoring the Data
Even with the technology at your disposal, it's a waste of time and resources if it isn't being used correctly. Today's contact centres have more data available to them than ever before, but it doesn't help anyone if your team isn't observing and analysing the data to improve the performance of your team and the technology. Data will give your organisation a better picture of what your team is missing and how you can improve your daily performance.
Not Implementing New Technologies
Modern contact centre technology is completely changing the way we approach customer service. With the right technology in place, you can completely optimise the performance and productivity of your contact centres. With Alvaria's Workforce Management solution, you can track the performance of your staff, forecast the needs of your business, and find ways to improve productivity.
How Call Design Can Help
Call Design is a leading provider of WFM software, ensuring that contact centres are equipped with the tools they need to provide better customer service in a digital age. With our consultative approach, we develop a deeper understanding of the needs of your business and implement a solution that meets those needs. Contact Call Design today to learn how we can help you.